Wednesday, March 30th, 2016
Is it any surprise that "Since 2007, the majority of Americans have had little or no trust in the mass media?" We regularly see the Associated Press (AP), media icon and household name, smearing Israel and sanitizing Islamist terror, and recently learned of the AP's collaboration with North Korea. Now we discover that this is no modern-day phenomena; this is the history of the AP:
The Associated Press news agency entered a formal cooperation with the Hitler regime in the 1930s, supplying American newspapers with material directly produced and selected by the Nazi propaganda ministry, archive material unearthed by a German historian has revealed. …

AP also allowed the Nazi regime to use its photo archives for its virulently antisemitic propaganda literature. Publications illustrated with AP photographs include the bestselling SS brochure "Der Untermensch" ("The Sub-Human") and the booklet "The Jews in the USA", which aimed to demonstrate the decadence of Jewish Americans with a picture of New York mayor Fiorello LaGuardia eating from a buffet with his hands. …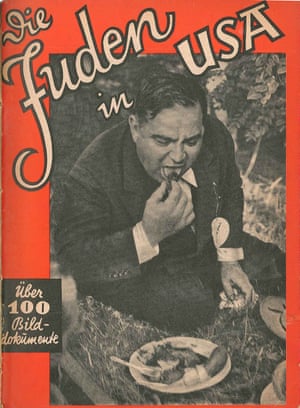 It seems that the AP's most recent best-buddy dictator-murderer is North Korean leader Kim Jong-un:
… In 2014, Washington-based website NK News alleged that top executives at AP had in 2011 "agreed to distribute state-produced North Korean propaganda through the AP name" in order to gain access to the highly profitable market of distributing picture material out of the totalitarian state. The Democratic People's Republic of Korea comes second from bottom in the current World Press Freedom Index.

A leaked draft agreement showed that AP was apparently willing to let the Korean Central News Agency (KCNA) handpick one text and one photo journalist from its agitation and propaganda unit to work in its bureau. AP told the Guardian that "it would be presumptuous to assume 'the draft' has any significance", but declined to disclose further information on the final agreement. …
While we find ourselves often ascribing media bias to motives like philosophical or political agendas, it is most likely avarice — cold, hard cash — that motivates this unethical behavior.
---
<! -- drew 10/3/05: place a line after each entry to improve readability -->